Courses
Here's what I want you to know…
When you are ready…
I am going to show you the ONLY way that will GUARANTEE you the Wellness Lifestyle you have always wanted!
And that's just for starters…
Walking you from A-Z down the path of wellness, this is a very comprehensive and in depth study of how your body works, what you need to know, new health discoveries and so much more…
You think I'm lying?
Register for the FREE Wellness Coaching Series and see for yourself!
——————————————————————————————————————————————
Wellness Way Cafe
Video Cookbook Series Vol. 1
"What", you ask, "is Wellness Way Cafe"?
Wellness Way Cafe is Volume 1 of my personal cookbook series containing 25 healthy vegetarian recipes.
And get this… each recipe has a follow along video that makes learning and making them simple and fun to do.
All recipes in this series are vegetarian, some vegan and some raw. They are all health conscious.
Included in the video's are many helpful
Kitchen tips
Cooking tips
Food tips
Stories
When you get started with Wellness Way Cafe, you not only get the easy to download E-book cookbook, you will also get a password and log-in details to access the exclusive video library.
It get's even better… If you go and check it out right now, there are 2 FREE Video Recipes you can access on the home page.
What's more is this is also a great resource to have On Your Path of Wellness and compliments those lessons very well.
——————————————————————————————————————————————
"We're not through yet"… Up Next…
2 Section Staff – Nunchaku Basics Training
What, you ask, is the Nunchaku?
A Nunchaku is two sections of wood connected by a cord or chain. They were made "World Famous" by Martial Arts Extraordinaire Bruce Lee.
And check this out…
Training with them has been noted to increase hand speed, correct posture, and condition the hands of the practitioner. They have been my Martial Arts training weapon of choice since I was very young.
Here's what I want you to know right now…
The Nunchaku is a very effective close-range self defense weapon. So take notice as possession of Nunchaku is illegal in a number of countries and U.S. States…
Here is a video of me warming up getting ready to teach a few moves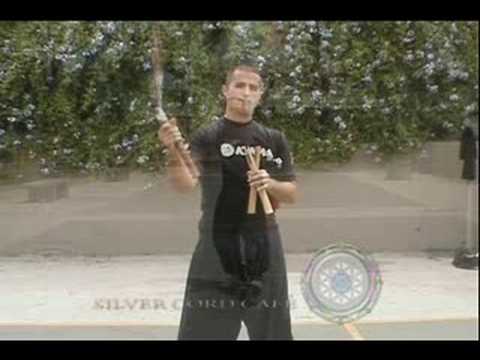 Coming soon… Scheduled Release 2010.
It is my hope that you find something that adds value to your life in the courses above. I look forward to working with you shall our paths cross.
To Your Health and Well-Being,
Shawn King
Martial Artist
You must take personal responsibility. You cannot change the circumstances, the seasons, or the wind, but you can change yourself. That is something you have charge of. You don't have charge of the constellations, but you do have charge of whether you read, develop new skills, and take new classes.
~Jim Rohn
Shawn-King.com, LLC  ©2008 – 2010 All Rights Reserved