5 Tips To Ensure A Good Nights Sleep
Sleep, sleep and more sleep… Ahhhhhh…. I stretch myself awake and roll around in the bed fully rested and ready to take on the day…
Ummmmmmm… Good mornin to ya.
I don't know about you, but waking up after I've slept exactly how long my body needed to on my own sleep schedule, is the only way I like to wake up.
A nice deep, restful, regenerating, sleep.
Unfortunately, most people do not get to do this… In fact, not only do most people have to wake up to an annoying sounding alarm clock, they do that after tossing and turning from a night of unrestful, insomnia like "half-sleep".
One thing I want you to understand right now…
When your body is out of balance… one of the first places you will notice is in your sleeping patterns.
If you are not sleeping correctly, then that is what I call a "SIGN" or a "HINT" from your body telling you "HEY… Something is wrong, and you need to make some adjustments to fix them!"
Anyway… what I've done is record a short video for you to introduce a few basic tips to get you started on your quest to sleeping better.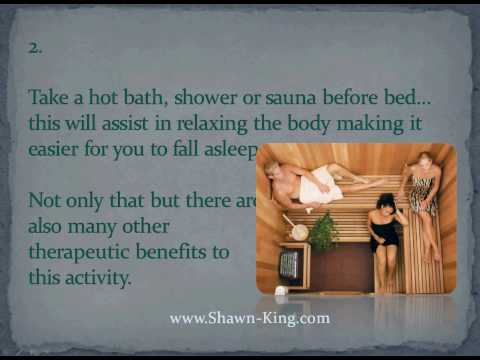 Now keep in mind, that there are many things that could be causing sleep issues…
If you are having them, then you may be at a point where you really need to take a step back and focus on your health and wellness for a while if you ever expect to get to the root issues.
A great place to start is my Free Wellness Coaching Video Series over at On Your Path Of Wellness
Here's to sleeping well… I'll share a few more great tips shortly.
To your Health and Well-Being,
Shawn King
P.S. – This one's for you StoJo…